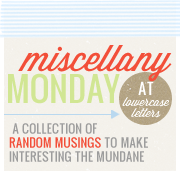 1) I did something very exciting yesterday. If you know me, you probably have already heard about it or seen pictures. If you don't personally know me, you'll hear about it in my next post. =D
2) Work#1 today was a bit of a drag. I miss my friend and co-worker A who just moved away. =( I feel like an elementary aged child who has no one to chat with in the lunch room or play with a recess. Obviously I have other friends but it's so sad without him at work.
3) The movie Zombieland cracks me up every time I see it. Without fail. It's just so good!
4) If you have a BJ's Brewhouse in your area you MUST check out their Pumpkin Ale. It's like pumpkin pie in liquid form. Thank you, A, for introducing it to me!
5) I am thankful for the time to catch up on TV shows. They're nowhere near the top of my priority list but it's still nice to sit down and mindlessly watch, well, crap. I like shows with drama AND plot. I like: Grey's Anatomy, Private Practice, Glee, Castle, and Lie To Me. No, I don't watch them all weekly. I don't have the time for that. But I'll watch them intermittently.